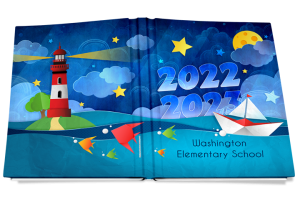 The next school year is already upon us! Take a few minutes to look at some inspiration for your next yearbook theme.
1. Create A Yearbook Cover Contest
Students will be eager to purchase a yearbook when they've had more significant input. Start a Yearbook Cover Contest. The yearbook committee decides the final entries for voting.
To encourage submissions, offer a prize. The winner could receive a free yearbook or offer the winner a feature page that highlights their hobbies, family, and friends. Eliminate hurt feelings by selecting two top entries, one entry for the front cover and one for the back. Or tell students the yearbook committee will publish all the submissions somewhere throughout the yearbook.
Organize their submissions by requesting:
Student name, grade, and class

Their cover idea and how you want it submitted (8 ½" x 11" paper, vertical or horizontal, presented in colored pencil or markers, etc.)

A specific deadline

Where they should submit their ideas
Before beginning the contest, check with your Yearbook Representative regarding guidelines for using the school logo, school colors, or other specifics.
2. Current Trends Provide Inspiration
Look to today's culture to help you get inspiration. Gen Z students were born between 1997 and 2012, making them anywhere from age 10 to 25. Bright colors, eye-catching graphics, authentic content without being too wordy, and a "community-building" mindset appeal to them.
An environmentally-friendly theme is popular. Using earthy colors, natural shapes, and a streamlined look makes the overall yearbook softer and less chaotic.
Nostalgia is a trend as well. Popular shows like Stranger Things, Cobra Kai, and even Ted Lasso remind us the 80s are back. Grab ideas by looking at yearbook covers from the past.
Catch inspiration from magazine covers, Pinterest boards, and websites like designspiration.com. Remember, all ideas need to be original and your own interpretation. Be sure to review our rundown of the U.S Copyright Law.
3. Take Inspiration From Inter-State Studio
Inter-State Studio inspires next year's yearbook cover for elementary, middle school, and high school yearbooks. We offer theme ideas, cover options, unique clip art, page design programs, etc.
Select one of our free standard cover options, and receive coordinating clip art to use throughout your book. Some standard covers have customization options, such as using your school colors or images.
If you prefer, design your own cover, upload it, and Inter-State will print it for you. This feature is beneficial if you run a Yearbook Cover Contest, as mentioned above. Your yearbook will genuinely be one of a kind.
If you are still looking for inspiration, check out Inter-State Studio's list of theme ideas. It's the perfect way to get your creative juices going.
Since 1933, Inter-State Studio & Publishing Company has provided quality yearbook and photography services with outstanding customer service. Learn more about our yearbook publishing services by scheduling a call, emailing us, or checking us out online at www.inter-state.com.