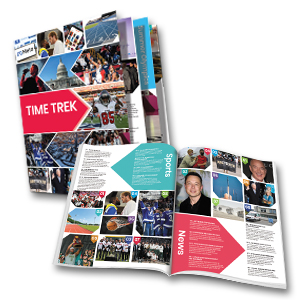 If you're new to yearbook preparation, there are five categories you must include in the overall design. Class photos, class projects, athletics, extracurricular activities, and autograph pages are essential for a spectacular school yearbook.
1. Class Photos
When you receive your yearbook, what's the first thing you do? Why turn to your class page to see your photo, of course.
Individual student photos by class and grade are the most important elements of every yearbook. Whether in Kindergarten or a Senior in High School, students want to see their photos first.
Yearbook memories are made by remembering classmates, teachers, and the administration. Consider having a particular page that focuses explicitly on the upcoming graduates too.
2. Academic Projects
Although yearbooks may include a double-page spread about the year's Science Fair, very little mention is made of other academic achievements. Be sure to highlight additional projects and academic awards.
Did one class take an exciting field trip? Make sure you include candid photos. Other mentions could be the school-wide recycling project or an interactive study in history class.
Learning is part of the fun. Remind students of the incredible opportunity they had to learn even more.
3. Athletics
Covering school athletics is a must for a quality yearbook. The section should spotlight each sport's team and individual athletes. First-rate photos of games and activities add excitement.
Don't focus only on last year's teams. Feature graduating athletes and their future athletic plans. Does a team have a particular song that gets them ready or another pre-game ritual? Add unusual stories and facts.
Of course, mention winning scores, championships, and any other awards.
4. Extracurricular
There's more to school life than academics and athletics. Extracurricular clubs such as drama, debate, marching band, and astronomy are vital to school life. Not only do they focus on students' interests, but they show the variety of activities your school provides.
Rather than just adding a photo of club members, find exciting ways to highlight their activities. This section is excellent for using emojis, symbols, collages, and different design techniques. It's also a great place to feature current student trends.
5. Autograph Pages
What's a yearbook without places to sign your name and leave special messages? Empty pages seem like a waste of material, but offering a specific area to autograph the book keeps it clean.
A signature page is a wonderful way to end your yearbook. Leave the page blank or dress it up with boxes, stars, or other symbols to be filled in.
Need Some Additional Advice?
The experienced staff at Inter-State Studio is happy to assist you, answer your questions, and offer a few tips. Check out our free Planning Your Yearbook toolbox with theme ideas, checklists, and tips on selling ads.
We are North America's largest family-owned school photography, planner, and yearbook publishing company. Get your order for next year's yearbook started now. We'll make it easier than ever. Visit Inter-State Studio, and let's get the conversation started.