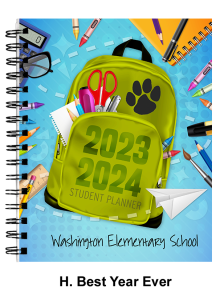 Selling yearbooks this year shouldn't be a hassle, but rather an exciting project that comes with a memorable journey, collecting the unforgettable moments of classmates, teachers, coaches, and more.
Here are five easy strategies to use for selling more yearbooks this year, so you can have more fun enjoying the moments, and stress less about what to do next.
1. Know Your Goals
When you have a vision and a goal, everything else is a lot easier to plan out. Here are some questions that will help you pinpoint your goals for your yearbook sales:
What is the theme of your yearbook?

How many pages will you include?

Who will be featured?

Will you be selling ads?

What special events this year will you include?
2. Get a Team
Gathering a dynamic team with unique skill sets is ideal when it comes to getting a team together for your yearbook fundraiser. Think about people you know who have strengths in writing, photography, fundraising, designing, and leadership skills.
Find students and teachers who are looking to build something great, who appreciate capturing memories that will last a lifetime.
3. Engage Online!
Both students and parents are online every day. Meet them where they are at and create a social media following to promote yearbook fundraising, features, and contests. Think Facebook, Instagram, and even Twitter.
Create hashtags along with your social media yearbook posts so people can follow along and participate online. Also, don't forget to include a link for them to make the online donation to participate and encourage your community to share and challenge each other to participate in the contest.
4. Incorporate Ads
Incorporate yearbook ads and have a chance to partner with businesses you believe in, parents, and students. Display these ads in your yearbook creating a space to advertise their services in exchange for a small fee.
These ads can have multiple size options: Business Card, Quarter Page, Half Page, and Full Page. Clarify the pricing for each ad size before reaching out to your local businesses.
5. Try A Giveaway
Try out doing a giveaway this year! Everybody loves good competition. Generate more engagement and buzz about the school yearbook by running a photo-sharing competition.
Ask students to tag their favorite memory with their photo and a hashtag of their choosing to be entered to win a free yearbook. It's a fun way to come together as a student body.
Work with us
Inter-State Studio has more than 65 years of experience in guiding advisors through the yearbook process. From your first meeting to launching your sales efforts, we are with you every step of the way.
If you want to learn more about yearbooks by Inter-State Studio, we can share more about how our process works and the advantages we can offer!