3rd Place Winner
School Name: Adair County R-II Schools
Hats Off: Recognizing Community Veterans
Briefly describe your project:
The Brashear High School Public Speaking class plans and presents an annual Veterans Day Assembly that includes our student body our families and our community. This is an opportunity for my class to apply their skills to a real world event that is an asset to both our school and our community.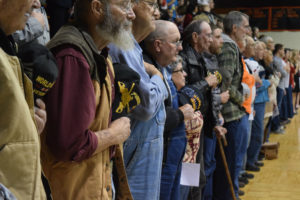 How does your project meet a community need?
It is vitally important for our youth to learn and to demonstrate respect for our country and our nation's veterans. Veterans need to feel respected and know that their service is valued.
How does your project integrate into and enhance your curriculum?
My students purpose to show honor in a creative and unique way. Optimal learning occurs with real life applications. This project encourages students to develop interpersonal presentation and speaking skills and then provides the opportunity to apply the skills. Students form committees to make decisions. Students write speeches and script for the program.
If awarded, explain how the funds will be used to improve your service-learning project.
We have lots of big dreams for how we can continue to improve our project! Currently the teacher and students fund the project which varies each year. If awarded the funds we would like to purchase video equipment so that we can interview veterans and record their stories.