While there is a lot of uncertainty revolved around Covid-19 being able to provide documentation of some of the events that have occurred in your yearbook will provide a memory for students to look back on in the future.
We have designed page templates that you can easily add into your yearbook and customize with your school and town story.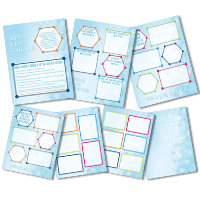 There are 7 template pages available that you can mix and match for your yearbook. Simply drag and drop the background image(s) onto a page and add your own text boxes and image boxes to customize.
The template files can be found in the following location:
PlicBooks: Backgrounds ISS – COVID19
Pixami: Clipart – COVID19
Fusion: Clipart – Covid 19 clip art