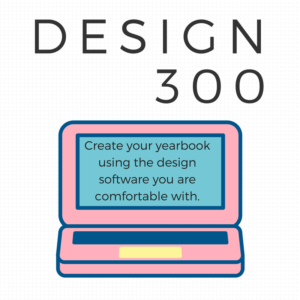 Digital 300 is the DIY option for yearbook advisors who want to create a yearbook in the design program with which they are already familiar. So how do you know if it's the design program for you? Consider these points:
Ultimate Creative Freedom– If you are familiar with design software like Adobe InDesign or QuarkXPress, you can use your knowledge to create the yearbook from scratch. If you don't need things like templates, clip art, or word art, or if the idea of pre-made anything makes you uncomfortable, consider D300.
Custom and Advanced Design– If you have a specific design vision for this yearbook, you might find that the other design programs are limiting. When you use the design program of your choice (here's where it gets cheesy), your only limitation is your imagination! All cheese aside, when you can upload everything your way, use your menus, on your machine, you are in total control.
The Support of our Representatives– Even the most skilled designers need help sometimes. That's where our yearbook representatives and tech support staff can help. Even if you choose to design it yourself, you're not alone.

Here are the links to our other design program blogs to help you weigh your options: Pixami, Fusion, & PLIC Books. If you think Digital 300 may be the program for you, or have any other questions, contact us today. If you'd prefer to talk in person, please call us at 1-800-451-0507.