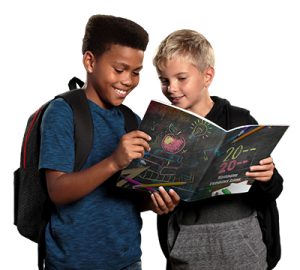 Everyone from elementary through high school is ready to shake the dust off the last two years and begin anew. The trend for 2022 elementary school yearbooks is fun, fun, fun! Yes, the year has been challenging, but it's all about having fun in the new year.
Cover Designs
First impressions matter. This year, make your yearbook cover stand out.
A popular look for 2022 is geometric shapes and bold colors reminiscent of sunshine, ocean water, and flamingos. Consider using gradient color schemes too.
Nature is another trend for themes and cover designs. Think outdoors or organic. Everyone is happy to be outside and free to explore. Use warm woodland colors and outdoorsy graphics.
Finally, consider a design that incorporates illustrations. Clip art gives a nostalgic look; emojis make it lively, while cartoons bring on the fun.
Inter-State Studio offers a variety of yearbook cover options. Choose a standard cover or customize your own.
Theme Ideas
The Winter Olympics were one of the main events of the school year. Focus on the highlights such as freestyle skiing, figure skating, and snowboarding. Encourage students to reach higher and "Go for the Gold" by featuring athletes like Nathan Chen, Shaun White, and Erin Jackson.
Selfies are also a trend for yearbooks. Choose a selfie theme such as My Family, Me and My Pet, or My Favorite Hobby. Design a selfie station at the school around your overall theme, and encourage kids to take individual and group photos.
Ask for answers to questions such as, "What's your favorite subject?" "What's your favorite school memory from this year?" or "What do you like best about our school?"
Take a closer look at suggestions for yearbook theme ideas from Inter-State Studio. Download the ideas to provide ongoing inspiration.
Additional Pages
Be sure to include "Thank You" pages for teachers, the maintenance staff, and everyone in the office who keeps your school running.
Highlight field trips, art exhibits, class science projects, or stories and poems the kids have created. Include information about important world events, the latest trends in fashion, and the number one song on the charts.
Who We Are
Inter-State Studio & Publishing pioneered yearbook creation and publishing in the 1960s and continues to do so today. Visit our website at www.inter-state.com for yearbooks, planners, and photography. For personal attention, schedule a call or email us.