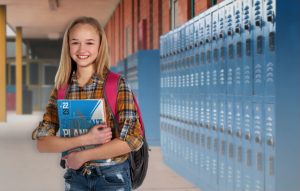 Who doesn't remember the joy of receiving your yearbook at the end of the school year? You pour through the pages to see your photos and begin handing them to classmates to sign.
Yearbooks, in various forms, have been around for centuries. Let's take a closer look at the history of these beautiful memory books.
The Beginning – The Late 17th Century
According to The Atlantic, students at schools on the East Coast created memory books for the first time. Only males attended school, and their scrapbooks consisted of newspaper articles, hair clippings, dried flowers, and other school momentos.
Like today, students passed the books around for friends to add a note or sign their names.
The First Official Yearbook – The 1800s
The 1806 class at Yale developed the first bound yearbook about events, students, and the faculty. Without the invention of photography, the books included printed silhouettes of students.
In the mid-1800s, George Warren took advantage of a new photographic technology called a "negative." He printed multiple images from one negative, encouraged the students he photographed to buy several photos of themselves, and share them with other students to create books.
Warren was well-known as a maker of "graduating class pictures." The National Museum of American History has an 1860 "Warren Yearbook" on display from Rutgers.
Turn Of The Century – The 1900s
The invention of the printing press in the early 1900s changed the style of yearbooks. They were no longer hand-bound but became mass-produced machine-bound books.
Photographs weren't always available around the turn of the century. As a result, yearbooks only added students' printed names and drawings. In 1914, a yearbook from East St. Louis High School returned to the scrapbook idea.
Because of WWI, pages with printed signatures, mementos like pressed leaves, and autographs from friends made up the typical yearbook.
The History of Inter-State Studio – 1933
Now the nation's largest family-owned school portrait company, Inter-State Studio & Publishing, Co. was founded in 1933. The company began out of Guy Snyder's home in Sedalia, MO. By the 1960s, Inter-State was pioneering yearbook creation and publishing.
Today, with the help of advanced technology, including digital photography, yearbooks launched into a new phase. Inter-State offers online page design software, templates for yearbook cover designs, theme suggestions, and instructions for planning, selling and designing a school's yearbook.
Since 1933, Inter-State Studio & Publishing Company has provided quality yearbook and photography services with outstanding customer service. Learn more about our yearbook publishing services by scheduling a call, emailing us, or checking us out online at www.inter-state.com.