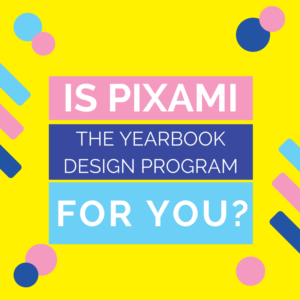 Inter-State Studio offers a variety of ways to create your yearbook. Last time, we discussed Yearbook Fusion. If you're looking for something simpler, Pixami might be the right design program for you. Check out a few of the program's highlights:
Works on iPad & Chromebook-

If you like to sit in the evenings and play with your iPad, you might be interested in Pixami. Pixami is accessible from your iPad and Chromebook, allowing you to work on your yearbook from anywhere.

Prevent Communication Errors-

Pixami also has features that are essential to yearbook design. With this tool, you can only have one user at a time per page. This feature prevents other people from working on the same page on which you're working and accidentally saving over your work.

Templates Are Up To You-

Another essential yearbook program feature is the ability to

create and save custom templates, while still giving you the option to use pre-made templates.

All-Inclusive- Short on time or not artistically inclined? Pixami offers fully themed books! These themed books include backgrounds, clipart, and image nodes. With a simple selection, you can have a professional, cohesive feel to your yearbooks. See below for a screenshot:
Color Coding is Essential to Organization-

The yearbook ladder has color-coded sections, keeping your team organized and on track.
Contact us with any questions or concerns!
If you'd prefer to talk, call us here: 1-800-451-0507.