Making memories matters. It's not just a theme for fall picture season; our team at Inter-State wholeheartedly believes it. We understand the importance of capturing these moments in time, as our children are growing up. It is the core of what we do, to help these memories last a lifetime. Each year I compare my boys' school pictures like a beautiful, consistent timeline of how much they have changed and grown. In honor of Grandparents Day this past weekend, it seemed appropriate to share a similar and surprising recent experience.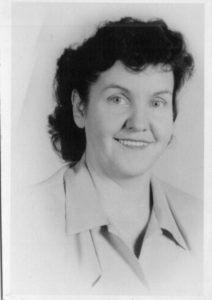 My grandmother, Helen, passed away in 1999. I feel so blessed that she was mine growing up. She was a force. A strong, loving, say-it-like-it-is woman. To this day, if anyone in my family lets something slip out that probably should have been left unsaid, someone always says, "Ok, Helen," as she shows herself in the strong and independent women of my family. She sang, played the guitar, drums and harmonica, and her home was filled with music, laughter and so much food! My uncle recently gave my parents a trunk full of her pictures so that we could have the opportunity to go through them and keep the ones we want. Some of the pictures in this trunk are over 65 years years old, and we have never seen them. There were a lot of candid photos, but as I was looking through them, I came across several portraits. One was dated, 1958. I called my mom, who told me that my grandma worked for Mary Alice Snyder at Inter-State, and had her portrait taken each year. She hadn't really thought about it in years, and never thought to mention it.
Those were the photos I kept from the trunk. I looked over the slight changes in her face and hair each year and thought about how much certain family members look like her. Later in the evening, I showed my boys their Great-Grandma's "school" pictures when she worked where I now work, along with a picture of that house with all of the music and laughter of my childhood. On Labor Day, we drove by the house (which has changed hands a few times since she owned it) so they could see it in person, but it has fallen in. Brush and grass have grown up over what is left, making that picture of it even more special.
Inter-State didn't relocate to our current facilities until 1984. Although I am not walking the same halls that my Grandma walked back in the 1950's, it's lovely to know our mission remains the same- to capture memories in order to preserve tradition and make a lasting impact. Over 60 years later and those photos are doing that, just as she did.