SECONDARY STUDENT PLANNER PAGE FEATURES
Building character matters everyday and with our student planners we provide them with the resources they need to be successful.
160 Full-Color Pages
7″ x 9″
Character Education On Every Page
Maximized Line Spacing
Hall Passes On Each Page
13 Month-At-A-Glance Calendars
Bilingual Dates
SAMPLE SECONDARY PLANNER PAGE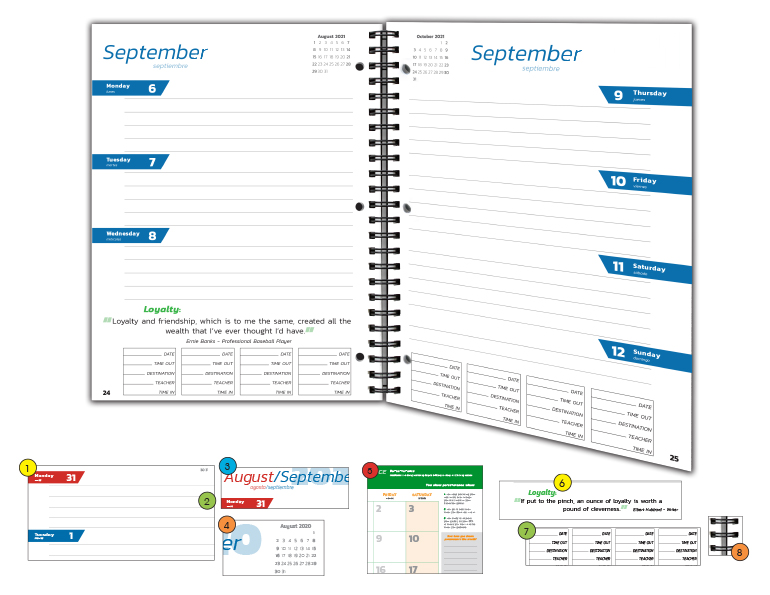 PRE-PRINTED DATES help students plan long-term assignments.
MAXIMIZED WRITING AREA allow the most space for individual class schedules and assignments.
BILINGUAL DATES
MONTH-AT-A-GLANCE CALENDAR gives students perspective on long-term assignments.
MONTHLY CHARACTER EDUCATION TRAITS allow space for students to summarize how they have shown character each month.
WEEKLY QUOTES help students apply character education to their everyday activities.
HALL PASSES located on every page provide more convenience for students and teachers to sign in and out.
3-HOLE DRILLED to fit in standard binders.
SECONDARY PLANNER RESOURCE PAGE SAMPLES