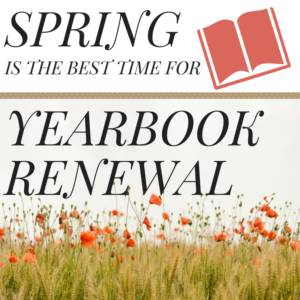 I'm going to let you in on a little yearbook secret: the sooner you renew for your 2017-2018 yearbook, the better. Not only will you have it crossed off your to-do list, you often save money!

Here are the top 5 reasons you should renew in the spring:
Renewing in the spring means you don't have to carry that decision around with you through the summer. Once you've gotten the renewal decision out of the way, you can concentrate on the fun parts of the yearbook program. Designing, taking pictures, choosing the layout, etc. are the activities that are usually the most enjoyable!

Multi-year agreements are a convenient way to avoid the hassle of renewing each year. Check with your rep to see if you can save money by signing a multi-year agreement.

You should probably call your rep anyway, as they might be offering a limited time special for renewing before a specified date.

Try to estimate how many yearbooks you'll need to order. Some of our promotional offers include a discount if you increase your copy count, which can save your school even more money.

Talk to your friends at other schools – if you refer a new school to Inter-State, you save! The earlier you mention it, the better chance you have to catch the school while it is in its decision-making stage.

Bottom line: Contact your rep. Let them know you're wanting to renew and ask about available offers.* Then you can relax during your summer vacation, knowing you've made the right decision about your yearbook company.

*Offers and promotions may vary.