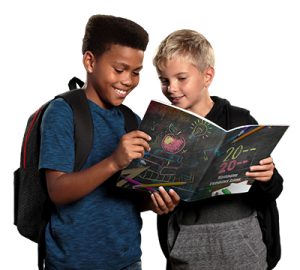 Get creative this year for your yearbook fundraising! Thinking outside the box and trying something new is always a fun and rewarding journey. In this blog, we want to give you some new strategies for selling yearbook ads.
We are here to help serve new and veteran yearbook advisors with the support and year-round service they need to build an amazing keepsake for every school year.
Why Sell Yearbook Ads?
A yearbook ad is a great way to partner with local businesses, parents, and even students by creating a space to advertise their services in exchange for a small fee. It's a win-win for everyone!
You may be wondering if incorporating yearbook ads is even worth it. Adding advertising pages to your yearbook can greatly help cover or reduce the cost of your yearbook. It can also help ensure each student can cherish the memories of the year for years to come with their yearbook.
Incorporate Parent Ads
Partnering with parents for ads is an easy way to get started as these are the easiest types of ads to sell since they are being sold to loved ones of the students. They can even leave an encouraging message and congrats for achievements that can be looked back on for years to come.
It's very simple to incorporate these ads into your yearbook design! Try offering tier pricing for each size option and make sure to communicate the pricing when selling these ads.
Try Business Ads
Next – give business ads a try! This is an amazing opportunity for businesses to connect and reach local students and parents with a message. They can do this while also supporting your yearbook program.
These ads can also be offered with the same ad size options: Business Card, Quarter Page, Half Page, and Full Page. Be sure to clarify the pricing structure for each ad size before approaching your local businesses.
We Can Help.
Get started selling yearbook ads today by reading our Selling Ads guide. Whether you are heading up an elementary, middle school, or high school yearbook, we offer a variety of services for any budget so you can create a yearbook full of memories!
Contact us today to learn what yearbook services we offer.