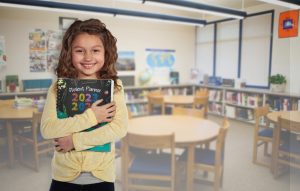 Selling physical yearbooks can feel a bit backward in today's digital world. Did you know you can use social media to your advantage when promoting your yearbook?
Social media has given our world an amazing platform to connect to friends, family, coworkers, and students. According to the Pew Research Center, 95% of teenagers have a smartphone, and nearly 50% admit to being online almost constantly.
If you want to get attention online for your yearbook campaign, video is the way to do it. Keep reading to learn why and how to implement this into your yearbook promotions!
Appeal to Gen Z Students
You may have heard of popular platforms, including Tik Tok, Instagram, and Youtube. In a YouTube survey, 50% of millennials and Gen Z generations reported video as something they "couldn't live without" in their daily lives.
Gen Z wants to connect through video online, and you can create a space to do so. Implementing short videos online helps you get the engagement you need for yearbook sales and special school moments to remember!
Get More Visibility!
If you need more eyes on your yearbook campaign, online social platforms make it fast and easy. Your yearbook staff can utilize multiple online platforms instantly to get the word out about your yearbook plans.
Social media platforms are simple to use, affordable, and customizable. Here are some simple ways to use social media to promote your yearbook:

Create a short video for TikTok, YouTube, or Instagram.

Upload a few photos of completed yearbook pages.

Run a "free yearbook" contest.
A Personable Way of Connecting
More than anything, sharing your yearbook campaign using social media video can bring memories to life in a way only video can.
Have students, teachers, parents, and coaches share their favorite memories of the year. Or highlight school events and games through the power of video and music. The ideas and opportunities are endless.
In addition to your representative and our technical support team, we have online tools to help make your yearbook a success. Talk to us today to get support and help through your yearbook project this year!