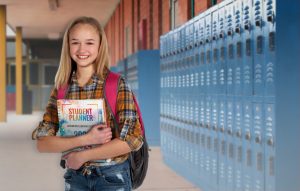 Sometimes coming up with a yearbook plan is easier than sticking to and executing your plan. Be sure to keep your team focused and engaged with every step of the way.
Here are three methods to help stick to your yearbook goals as you navigate some of the challenges that may pop up.
1. Get Creative With Fundraising
Partnerships are a creative way to fund your yearbook this year using ads! Collaborate with local businesses, parents, alumni, etc., and display their ad copy and photos within your yearbook for a certain price.
Social media is your best friend when it comes to funding your yearbook. Try hosting a social media online contest. Create a unique hashtag for a game. Let everyone know what time it's happening and explain the terms. It could be anything from a spirit contest to the most outrageous school spirit photo winning a prize.
2. Design With Your Theme in Mind
Design matters when it comes to your yearbook this year! It has the power to engage and invite readers in even more. Keep your theme in mind when coming up with colors, pictures, graphics of every kind. Cohesiveness is key.
As the design is one of the first steps in the yearbook process, sticking to a timeline for the design process is essential. If this step isn't on time, everything else is a ripple effect.
With our design program suite at Inter-State Studio, you choose the page creation tool that works best for you. If you are a beginner or just short on time, check out PLIC Books or Pixami Yearbook Pro, for more drag-and-drop themed options. For a more customized and advanced look, try one of our other yearbook design programs.
Yearbook Cover Options
When you work with us, we also offer free standard covers for your yearbook. We are always updating our designs each year after listening to our customer feedback.
Our standard covers can even be customized with color or your own images. If you don't find the perfect cover for your school, design your own and we'll print it for you!
3. Include Special Touches
What makes your school unique? How can you portray a story within your yearbook? Start asking yourself questions like these to get your creative juices flowing. Special touches will make your yearbook stand out this year.
We offer a vast array of ideas and special touches to add to your yearbook or yearbook cover. Create your yearbook to reflect the spirit of your school or personalize each book with student information.
Contact us today to learn what yearbook services we offer to help you stick to yearbook goals.