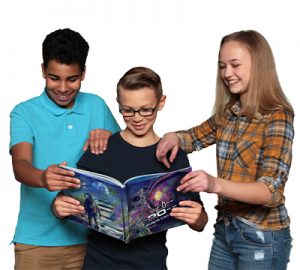 Yearbooks are about capturing and preserving moments for a lifetime. Whether your students are in elementary, middle, or high school, fundraising can feel overwhelming. With our help, we want to make this process a bit more fun!
Consider fundraising to help cover the cost of your yearbooks or to help fund your yearbook program. Fundraising can help you upgrade things like cameras and computers. Here are 6 fun yearbook fundraisers ideas to get started.
1.
Partnerships
An easy way to make some money for your yearbook this year is with ads. Create paid partnerships with local businesses, parents, alumni, etc., and display their ad copy and photos within your yearbook for a price. It's a win-win for everyone!
2. A Bake Sale
There's truly nothing like homemade cookies and yummy treats from your local family friend.
Get your students together and their parents, and host a bake sale at your school, game, or local event. A bake sale is a perfect idea for the holidays! Try holding a holiday bake sale at a large school event.
3. School Car Wash
This tried-and-true fundraiser has stood the test of time. Host a school car wash with your students for some fun in the sun! Every parent wants to support their child's yearbook along with a nice clean car.
Advertise a couple weeks in advance and make a list of car cleaning supplies you'll need. All you need after that is student volunteers to help wash cars. Play your favorite playlist and make a fun Saturday of it.
4. Food Truck Night
Everyone loves a good food truck! A food truck night pairs well with other fundraisers like funfairs, field days, and other outdoor activities. Try reaching out to your local food truck vendors and ask to receive a percentage of their profits with your yearbook fundraising campaign.
You could also sell parking spots to these vendors to sell food on and around your school property!
5. Social Media Contest
Every student (and even parents) are online these days. What better place to fundraise than online! Create a social media contest with specific directions and rules for students and parents to participate in online.
Create a unique hashtag for a game. Let everyone know what time it's happening and explain the terms. It could be anything from a spirit contest to the most outrageous school spirit photo winning a prize. Make sure to include a link for them to make the online donation to participate and encourage your community to share and challenge each other to participate in the contest.
Get creative! It's your time to make memories and see what your students and community are made of. Here are more tips about fundraising, as we specialize in photography, planning, and yearbook publishing. We provide everything you need to build and sell your yearbook.