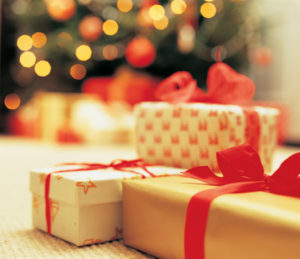 I know I can't be the only parent that struggles with gift giving year after year. I spend way too much time scouring the internet trying to find holiday gift ideas and usually end up more confused than when I started. But not this year. This year I have the perfect solution. What do the people in my family love the most? My kids. I've never seen my dad's face light up over a carefully chosen pair of socks the way it does when my son walks in the room. So this holiday, (spoiler alert, mom and dad) they're getting photo gifts featuring their two favorite people; my son and daughter. What could be more special and unique?
Inter-State Studio makes this process super easy by offering a digital download of your child's school picture. The digital download includes a copyright release so you are able to print their sweet little face on anything, from ANY retailer! Photos and copyright releases are saved indefinitely to your account so there's no need to worry about lost CD's or crashed computers.
Order Your Photo Gift
Click the link below to purchase the download, and find the perfect photo gift for your loved ones this holiday! Or, you can browse our selection of photo gifts and ornaments. These gifts may be purchased without the digital download.The best part? You can do all of this from your comfy couch in your pajamas!
Make sure you have your unique order code ready, add "My Digital Portrait Download" to your cart, then checkout. Shortly after checkout you will receive an email with a link to your digital download. If you have already purchased a digital download, just log in to your account and click on "Downloads" to access your Digital Portrait.
Teacher Holiday Gift Ideas
Next up on my list- teacher holiday gift ideas. Teachers are notoriously hard to buy for. You must resist the temptation to get them yet another coffee mug or some school themed trinket for their desk. Trust me, they have enough. What they really want is something practical,something consumable, or something that offers a fun experience. Gift cards are a good idea; although they aren't the most fun gift to give, they are great to receive. Some gift card ideas may be a popular restaurant, the movie theater, or an online retailer like Amazon. Another good option is school supplies. Teachers spend way too much of their own paycheck on supplies for the classroom, so it would be a nice surprise to restock their supply cabinet. But of course nothing really beats a handwritten note, thanking them for all they do for your child. Ask your child to add a few notes on his/her favorite things about class so far this year. Sometimes the best gift of all is just knowing you are appreciated.
If you enjoyed this post, you may also like:
DIY Glass Photo Christmas Ornaments